Benoît Papillault, Last update: 2001-12-22
Warning
This page is outdated and is kept only for historical reasons, you can find the latest speedtouch driver on sourceforge, at the following address: http://speedtouch.sourceforge.net/.
There are two drivers for Speedtouch USB/330 modem under Linux:
---
Presentation
This page gives the status of a GPL driver project, for the ADSL SpeedTouch USB modem made by Alcatel. This driver is for the Linux operating system. A port has been done for *BSD.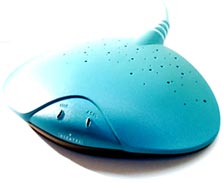 Documents from Alcatel
First of all, a brief presentation of this modem by Alcatel. Next, there is an article in French and in English concerning the development of a Linux driver.
Brief technical data
The ADSL line, which comes to your home uses the ATM protocol. This ATM layer is used to carry PPPoA, which carries the PPP layer and the TCP/IP layer. At this stage, you are connected to the Internet, and you can browse your favorite web sites.
Development roadmap
The development of this driver was done in the following steps:
USB packet logging sent by the Windows 2000 driver

To do so, I use a USB sniffer under Windows 2000 or under Windows 98. The log files are available (as .zip file) on request.

Writing a Linux kernel module which will reproduce those log files under Linux. This module should present a consistant ATM interface, which will be used by other components
PPPoA support installation
pppd installation
PPP connection configuration
You will find relevant information to install this "user-space" driver from the source package. rpm packages are under development.
Some contributions
If you have written a document speaking about the SpeedTouch USB or its installation, you can put your document here (HTML or TXT accepted).
Links
Contact